Sponsor Handiskins at your local club
Handiskins is a simple and effective members-only tournament that drives engagement, participation rates, and generates revenues for each club. It has a huge economic and social impact on the clubs in which it operates and has proven time-and-time again that it is one of the best demand generators for grassroots golf in the country.
Sometimes its not always possible for smaller club-minded businesses to become a major sponsor of Handiskins, but there is a way that local businesses can get involved in the successful running of Handiksins at your local club.
We have three ready-made tiers of club comp sponsorship that allows local businesses to keep their sponsorship targeted to the club that they love.
Drive early bookings
It's always important to drive early bookings in Club initiatives like Handiskins, which builds the  momentum for a successful tournament. Our Club Sponsorship packages focus on the sponsor subsidising the players to take part in their local comp.
Subsidise the entry fees of the first 25 Bookings by $20 
Investment: $500
Subsidise the entry fees of the first 50 Bookings by $20
Investment: $1000
Pay the entry fees for the first 25 Bookings at your club
Investment: $975
Pay the entry fees for the first 50 Bookings at your club
Investment: $1950
Subsidise or pay for the entry fees of all participants at your club
Investment varies depending on numbers
What businesses get in return
Depending on the level of investment club sponsors get the opportunity to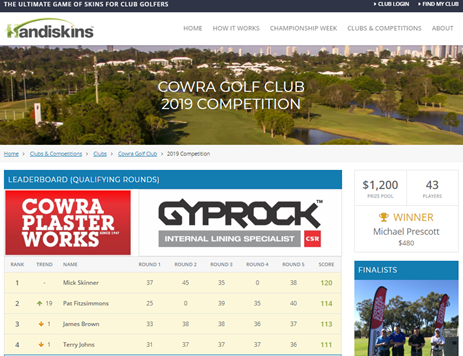 Naming rights acknowledgement of the Club event
Have their logo or Banner advertisement placed on the Leaderboard
Have their logo on all club specific emails 

Pre-event emails
5 x Round results
Final Results

On-course activation


You can setup your stall or promotion at the event to interact with participants initiating sales-lead-generation
Signage and product displays
Product sampling and display

Event Goodies bag

Add your flyer or product to the registration bag 

Bespoke packages and activations are available on request
If you see an opportunity to assist your club and its members, whilst also amplifying your company objectives it's time to  explore partnership opportunities with us. Please get in touch to discuss
Sponsorship of  all clubs with Regions, States or Nationally.
There is also the opportunity for sponsors to activate their brands at a local club level but across all Handiskins clubs across an entire regions. This suits brands that specialise in personal lead-generation or product sampling/education. It also assists businesses that have a vast geographic footprint beyond the borders of just one club. Please get in touch to discuss.