With an impending storm rolling in after day 2 of the Handiskins National Championships, the crowd assembled at the 19th Hole at RACV Royal Pines Resort for the inaugural Yamaha Chipping Competition with the winner driving away with a brand new Yamaha Golf Cart valued at over $10,000.
Our five finalists assembled in front of a vocal crowd 
Allan Thomas from Urunga Golf Club
Harry Schuster from The Links Shell Cove
Leonie Lee from Wolston Park Golf Club
Peter McGivern from Ryde Paramatta Golf Club
Shane Gray Balgowlah Golf Club
And so they hit off in that order, each player getting 2 shots at 50 metres with the one shot that finished the day as nearest the pin from all shots would be crowned the winner of the Yamaha cart.
It didn't take long to get the crowd excited, when Leonie Lee's first shot rolled ever so close to the pin. It rolled over the edge of the hole with the crowd convinced it would go in, only to see it roll on a few metres past the hole after flirting with the pin.
It's then that the storm rolled in and the rain started to fall, the large crowd scrambled for cover, but they weren't going anywhere - we needed to see how this ended.
With each player taking their second shot we saw Leonie Lee's first shot holding the winning position. Only two players remained and Peter McGivern stepped up for his last shot. With the rain falling down he stood tall in the face of tremendous pressure and the crowd erupted when his shot rested just over a metre from the hole. An amazing shot and one that looked for all money to be the winning shot.
With one player remaining, one shot left to hit, and the torrid weather turning Shakesperean up stepped Shane Gray to take his shot at the title. Gray needed to 'Bring the Rain' to take this one out. They say pressure makes diamonds - here's his shot.
Incredible scenes followed and the crowd ran down to embrace this unlikely winner, with Shane's family on-hand to celebrate the big occasion. So much drama and excitement - the fitting finale for the first ever Yamaha Chipping competition. Shane's ball was officially measured 30cm from the cup, an incredible effort under immense pressure. Congratulations Shane, and commiserations to the other gracious finalists that enjoyed the excitement of the occasion.
Shane goes home with an incredible Yamaha Golf Cart, and we thank Yamaha for providing us with such a great prize.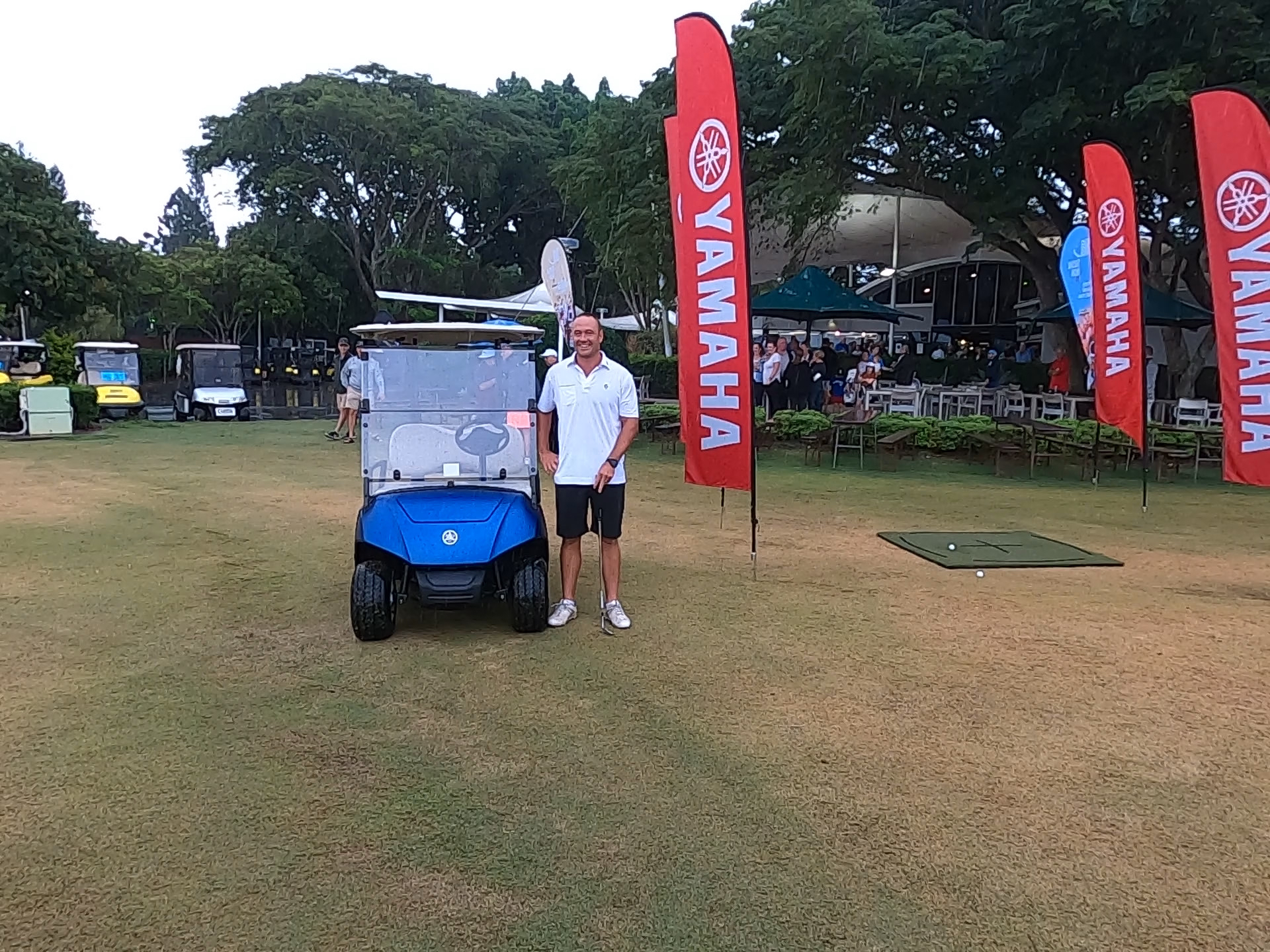 See you all next year!