John Osment from Northbridge Golf Club never expected to be lining up for the final at Royal Pines today. In fact he was so confident he wouldn't qualify, he had booked himself and his partner Natasha into surfing lessons and a long lunch at Byron Bay today to make the most of their visit to the Gold Coast.
But when John squeezed through qualifying on a tight countback with Proseprine's Rod Wecker, he had some explaining to do.
"I had to explain to Natasha that we couldn't go surfing and that the romantic lunch was no longer on the cards' laughed Osment as he celebrated his good fortune on the 18th hole of RACV Royal Pines Resort, after being crowned the 2019 Handiskins National Champion.
Natasha was all smiles though as she hugged him on the 18th hole, and she was particularly excited with the 6 bottles of Peter Lehman Wines Stonewall Shiraz he picked up along the way.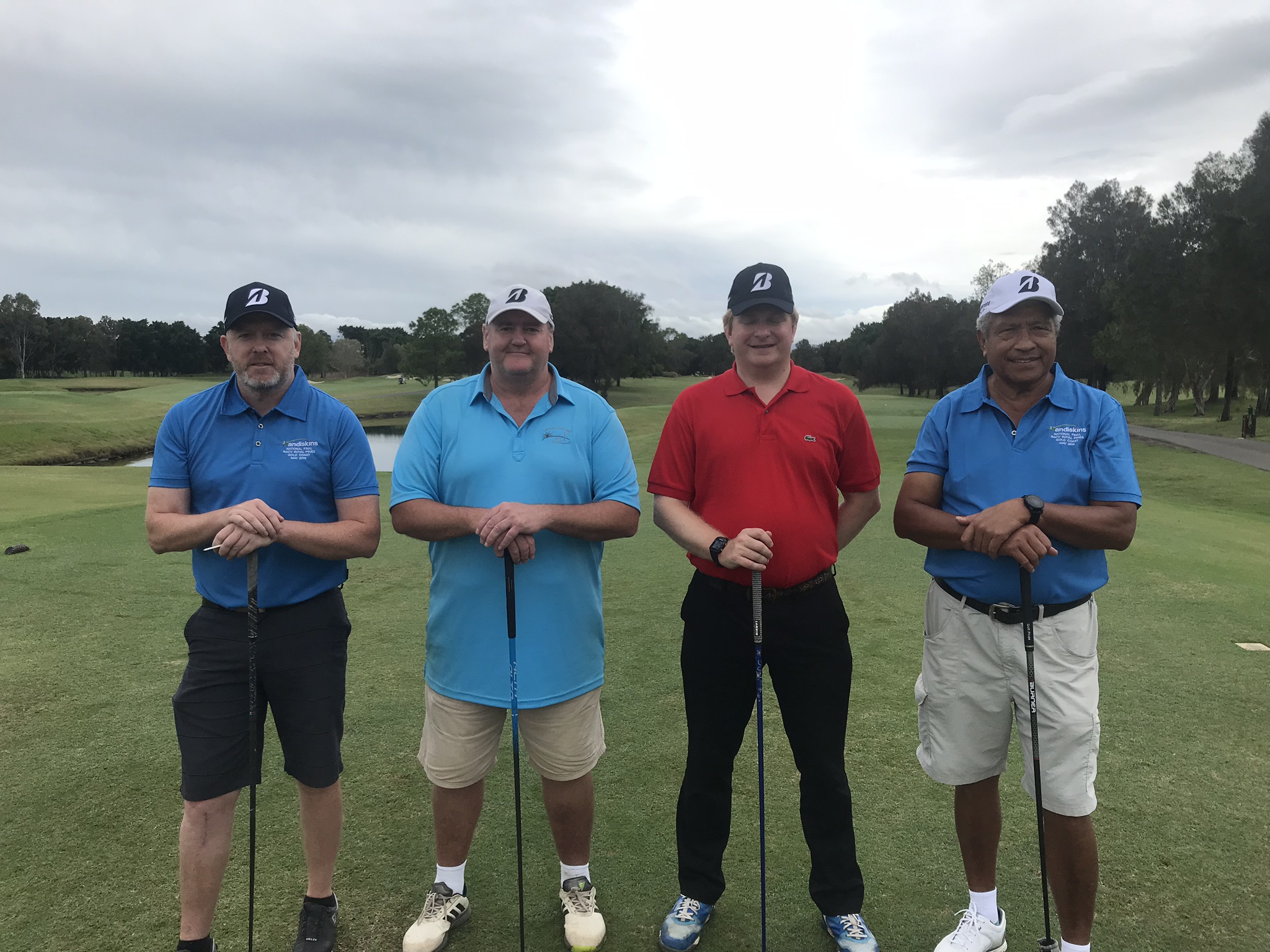 Stewart Oxley (Pacific Dunes), Rod Emerson (Leeton), John Osment (Northbridge), and Paula Cavu (Wolston Park) tee off in the 2019 Handiskins National Championship Final 
Osment, a Brit residing on Sydney's north shore is a doppleganger for his fellow countryman crooner Ed Sheeran, and his golfing looked just as smooth as he made his way around the challenging Gold Course layout at Royal Pines. Fighting it out in the final was the top qualifier -the evergreen 71 year old Paula Cavu from Wolston Park, Stewart Oxley from Pacific Dunes, and Rod Emerson from Leeton.
It was a tight tussle, with Cavu and Emerson both sinking notably impressive putts along the way to win holes, but the hole that mattered most was the jackpot on the 17th. Channelling Tiger Woods in his red shirt Osment nailed his putt to take an unassailable lead and headed to the 18th hole in the knowledge he was the next Handiskins Champion.
As the storm clouds rolled in to mark the end of another great Handiskins National Championship Week on the Gold Coast, Osment acknowledged the growing crowd of Handiskins qualifiers and friends that came out to witness the closing holes and cheer him to a great victory.
As the first drops of rain began to spittle down, Osment acknowledged that this was a fine way for him to finish his time in Australia.
"My job secondment finishes in three weeks, and I am returning to the UK then. I want to thank Northbridge Golf Club who have embraced me during my time in Australia, and also to Handiskins which was something I hadn't heard of until I started playing at Northbridge. You guys should bring the final to Britain next year and I'll be sure to attend" quipped Osment.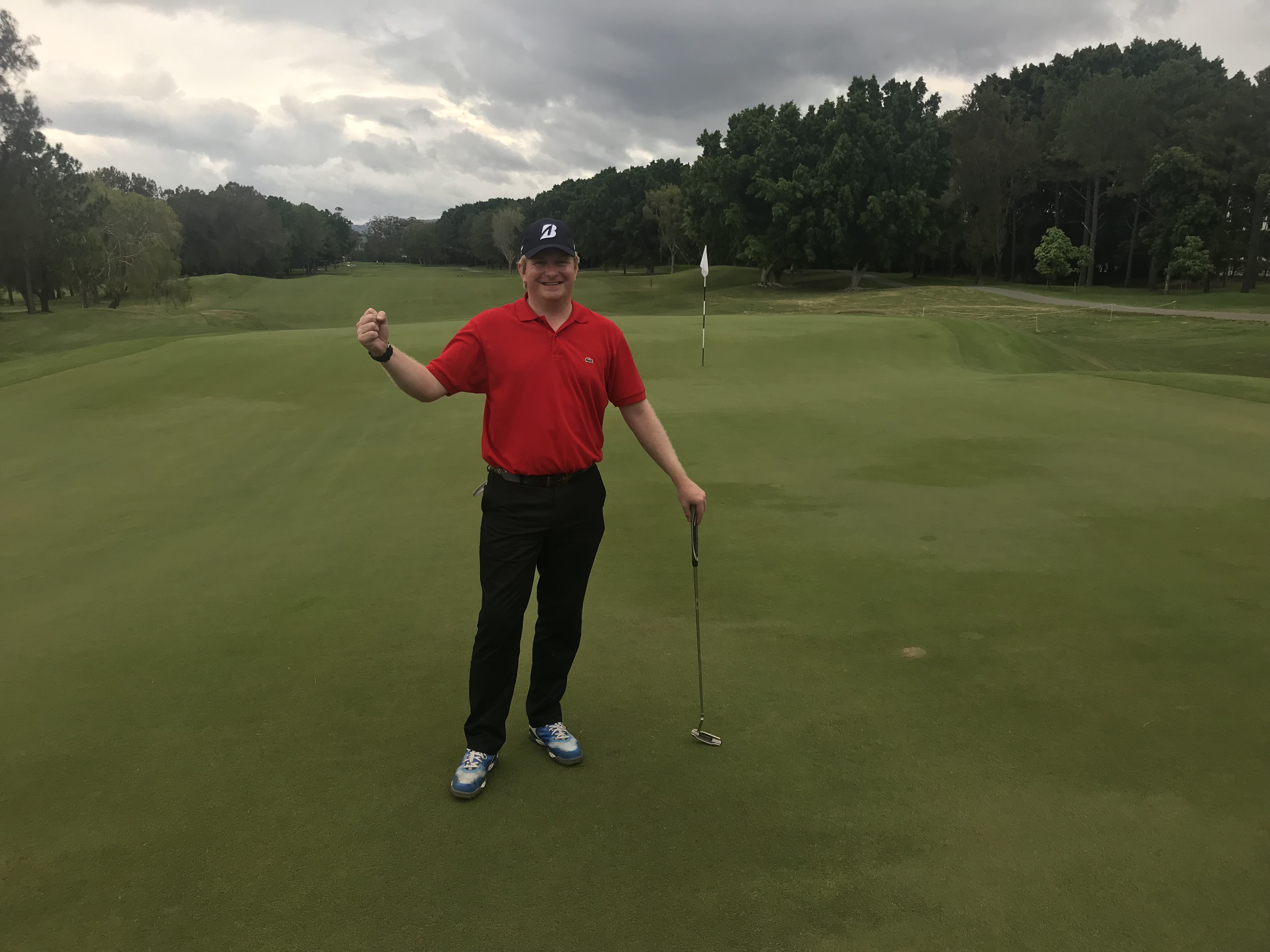 You never know - Handiskins has just started to snowball with its New Zealand expansion this year - could we be seeing Osment in the UK in future?
The 2019Handiskins National Championships Finals - Final Standings
1
John Osment
Northbridge Golf Club, QLD
$475
2
Rod Emerson
Leeton Golf Club, NSW
$335
3
Paula Cavu
Wolston Park Golf Club, NSW
$255
4
Stewart Oxley
Pacific Dunes Golf Club, NSW
$135
Total Prizepool

$1,200
Related
See the Handiskins National champions and finalists
See the ProHandiskins National champions and finalists